Products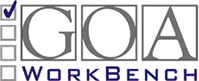 GOA-WorkBench® (GOA = Group Opinion Analyser) is a web-based toolbox that is offered as "Software-as-a-Service" and replaced the PC stand-alone application of the same name in 2014.
As a web-based SaaS version, the customer thus does not need to purchase and maintain a specific operating system platform and maintain the software with necessary updates, as the latest version is always provided by the manufacturer on its own servers.
All that is required to use the services is a current standard web browser and, if necessary, a suitable application to open the reports in MS Word-compatible format.
GOA-WorkBench® "Corporate Solutions" offer modules for organisation-wide self-assessments according to different methodological approaches, adapted to sector-specific needs.
Here, the participant groups of the assessment can be configured via a project cockpit and individual results (method-related partly also anonymised) are evaluated and consolidated.
☛ further information...
GOA "Individual Solutions" offer self-assessment modules for individuals beyond the fee-based "Corporate Solutions", which have emerged from EU research projects and are provided free of charge for time-limited use.

Currently included: